Open access is "about making all scientific research content available for anyone anywhere in the world" (Shockey and Eisen, 2012). The short video below explains the key difference between open and restricted access, using the characters of Charles and Julie.
Throughout this module, we have been embracing the digital tools and information available to us in order to develop our knowledge on different topics and make new discoveries. We have only been able to do this because the information is open to us.
So, evidently open access has its advantages:
"Education is a matter of sharing" (Wiley et al, 2014).
Open access encourages the discovery of new ideas and spreading them around. This article (2014) tells the story of Jack Andraka who, without access to journal articles due to paywall barriers, created a paper sensor that detects pancreatic, ovarian and lung cancers in five minutes. He argues the importance of open access in removing "an important financial barrier to knowledge". With the help of open access, science can spread and discoveries should happen faster.
Peter Coles (2012) highlights how open access is crucial in maintaining confidence in science. As he states, "to seek to prevent your data becoming freely available is plain unscientific" and, one might add, immoral, as Mike Taylor (2013) explains here from hindsight. Simultaneously, open access would save universities an enormous amount of money and tax payers would receive value for money.
However, as Peter Suber (2013) explains in this article, there are many myths, often developed by journalists and academics, surrounding open access which hold back its advancement.
Have you ever been stopped in your tracks whilst researching with the following nasty phrase…?
I have, and I didn't realise that there was a system behind this. Why would producers want to hide their material from knowledge seekers? We must therefore consider the disadvantages of open access.
Arguably journals which restrict access demonstrate the prestige of the articles that they contain. Do open access journals have the same desire for quality? As described by Richard Van Noorden (2013), some researchers opt out of open access to prevent their work from being used alongside advertising content. Researchers might also be discouraged because if the reader is not contributing to the publication fee, it's the author's responsibility.
Should we, like Peter Suber (2009) urges, move beyond prejudice and trust open access journals? I personally believe that we should. Openness is clearly the future: it enhances research, increases visibility and accelerates scientific progress.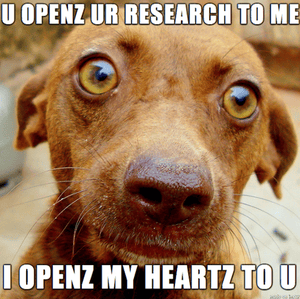 Word Count: 437
References
Coles, P. (2012) 'Open access will be crucial to maintain public confidence in science', The Guardian. Accessed 5/12/15 from http://www.theguardian.com/science/blog/2012/apr/20/open-access-crucial-public-confidence-science
McGill Library (2012) Open Access. Accessed 5/12/15 from https://www.youtube.com/watch?v=y9Jh_GffRPU
Shockey, N and Eisen, J. (2012) Open Access Explained. Accessed 5/12/15 from https://www.youtube.com/watch?feature=player_embedded&v=L5rVH1KGBCY
Steakley, L. (2013) 'Teen cancer researcher Jack Andraka discusses open access in science, stagnation in medicine', Scope. Accessed 5/12/15 from http://scopeblog.stanford.edu/2013/06/03/teen-cancer-researcher-jack-andraka-discusses-open-access-in-science-stagnation-in-medicine/
Suber, P. (2013) 'Open access: six myths to put to rest', The Guardian. Accessed 5/12/15 from http://www.theguardian.com/higher-education-network/blog/2013/oct/21/open-access-myths-peter-suber-harvard
Suber, P. (2009) 'Ten challenges for open-access journals', SPARC. Accessed 5/12/15 from http://www.sparc.arl.org/resources/articles/ten-challenges
Taylor, M. (2013) 'Hiding your research behind a paywall is immoral' The Guardian. Accessed 5/12/15 from http://www.theguardian.com/science/blog/2013/jan/17/open-access-publishing-science-paywall-immoral
Van Noorden, R. (2013) 'Researchers opt to limit uses of open-access publications', Nature. Accessed 5/12/15 from http://www.nature.com/news/researchers-opt-to-limit-uses-of-open-access-publications-1.12384
Wiley, D., Green, C. and Soares, L. (2012) Dramatically Bringing Down the Cost of Education with OER. Accessed 5/12/15 from http://eric.ed.gov/?id=ED535639